The Medallion of Merit is the highest honor given by Wake Forest and is presented annually for outstanding achievement and distinguished contribution to the University.  Previous recipients include presidents of the University, trustees, benefactors and retired faculty and administrators.
Learn more about the history of the Medallion of Merit
Dates following title indicate total years of service to Wake Forest.
2018 – Michael "Mike" Gerald Ford ('72), Director, Legacy and Philanthropy Programs at the Pro Humanitate Institute, 2015-2017; Senior Leadership, Campus Life, 1981-2017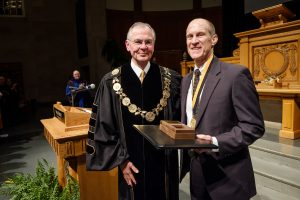 2018 Medallion of Merit Video: Ford
2017 — Herman Edward Eure (PH.D. '74), Professor of Biology,
1974-2013; James Pierce Barefield, Professor of History, 1963-2004.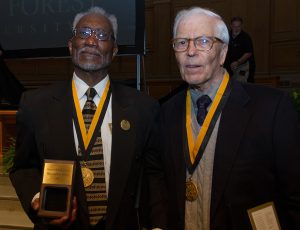 2016 – James T. Williams, Jr. ('62, JD '66) Chair, Board of Trustees and Benefactor; Jenny Robinson Puckett ('71), Retired Lecturer
2015 — Dr. Louis C. Argenta, Professor and Chairman Emeritus; Michael J. Morykwas, Professor and Director of Research; both from the Dept. of Plastic and Reconstructive Surgery, WFU Baptist Medical Center.
2014 — Dr. Margaret Supplee Smith, Harold W. Tribble Professor Emerita
2013  —  Rhoda Bryan Billings, former Chief Justice of the N.C. Supreme Court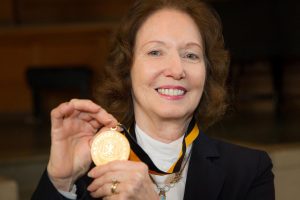 Rhoda B. Billings (JD '66) was honored for her outstanding engagement in the North Carolina law community and service as a professor at Wake School of Law from 1973 until 2003. First in her law school class, she became Chief Justice of the North Carolina Supreme Court in 1985 and she served as the first female president of the North Carolina Bar Association. "Her knowledge and ability need no other endorsement than the influential positions she was asked to hold, the decisions that she was asked to make, and the grace and professionalism that she artfully executed throughout her career," said President Nathan O. Hatch. "Her service to jurisprudence is both historic and significant."
2012  —  L. Glenn Orr, Jr., Chair, Board of Trustees and Benefactor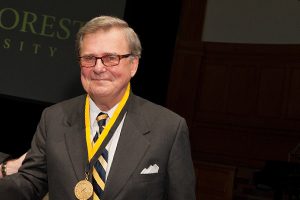 Orr was a member, vice-chair and chair of the Board of Trustees; a friend and counsel to Wake Forest and three University presidents; and he is committed in service to the high ideal of Pro Humanitate. "Glenn and Wake Forest reflect and compliment each other so well that it is remarkable that Mr. Orr did not attend Wake Forest as a student," said President Nathan O. Hatch. "In more than 30 years of service to the University, Glenn has demonstrated that Wake Forest has no truer friend and no more kindred spirit."
2011 — K. Wayne Smith ('60), Life Trustee and Benefactor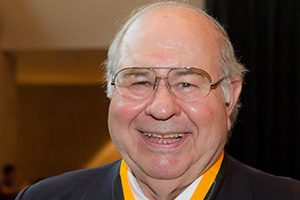 Smith served four terms on the University's Board of Trustees, including two years as chair, before being named a life trustee in 2010. He has also served on the Medical Center Board of Directors. Smith had a distinguished career in government, as director of program analysis for the National Security Council, and in business, as CEO of World Book, Inc., and Online Computer Library Center. In 1992, he established a scholarship for Wake Forest students, and he has occasionally taught courses in economics, politics and business. "Dr. Smith's exceptional record in education, politics and business, and his tireless efforts to share that success with others, serves as the best reflection of the hopes and dreams of the founders of Wake Forest." said President Nathan O. Hatch.
Read about Ying Vang ('09), a K. Wayne Smith scholarship recipient
2010 — Barbara Babcock Millhouse (LHD '88), founding president of Reynolda House Museum of American Art and past Wake Forest trustee
2009 — Dr. Richard H. Dean, First President, Wake Forest University Health Sciences; Marvin D. Gentry ('57), First Chair, Wake Forest University Health Sciences Board of Directors
2008 — Murray C. Greason ('59, JD '62), Chair, Board of Trustees
2007 — Edgar D. "Ed" Christman ('50, JD '53), Chaplain, 1956-2003
2006 — Thomas K. Hearn Jr., 12th President, 1983-2005; T. Eugene Worrell ('40), Trustee and Benefactor
2005 — Timothy Pennell ('55, MD '60), Professor of Surgery, School of Medicine, 1966-2002; Willis E. "Doc" Murphrey ('52, JD '57), Old Campus Personality
2004 — Edwin G. Wilson ('43), Provost and Professor of English, 1951-2002
2003 — Leon H. Corbett Jr. ('59, JD '61), Vice President and Counsel, 1968-2002
2002— C. Douglas Maynard ('55, MD '59), Chair, Department of Radiology, School of Medicine, 1966-2003
2001 — Victor I. Flow Jr. ('52), Trustee and Benefactor
2000 — Richard Janeway, Executive Vice President for Health Affairs, 1966-1997
1999 — Mary Ann Taylor ('56, MD '60), Director, Student Health Service, 1961-1991
1998 — Henry S. Stroupe ('35, MA '37), Dean of the Graduate School and Professor of History, 1937-1984
1997 — Ivey C. Gentry, Professor of Mathematics, 1949-1989
1996 — Lula M. "Lu" Leake, Associate Vice President and Dean of Women, 1964-1997; Mark H. Reece ('49), Dean of Students and Dean of Men, 1956-1988
1995 — Thomas E. Mullen, Dean of the College and Professor of History, 1957-2000
1994 — Germaine Bree, Kenan Professor of Humanities, 1973-1985
1993 — Eugene Hooks ('50), Director of Athletics, 1956-1992
1992 — Elizabeth Phillips, Professor of English, 1957-1989
1991 — Weston P. Hatfield ('41), Chairman, Board of Trustees
1990 — Eben Alexander, Professor of Neurosurgery, School of Medicine, 1949-2004
1989 — Harold M. Barrow, Chair of Physical Education, 1948-1977
1988 — Richard T. Myers, Chair, Department of Surgery, School of Medicine, 1950-2000
1987 — Russell H. Brantley Jr. ('45), Director of Communications, 1953-1987
1986 — D. Wayne Calloway ('59), Chairman, Board of Trustees
1985 — Robert A. Dyer, Professor of Religion, 1956-1983
1984 — James Ralph Scales, 11th President, 1967-1983; Harold W. Tribble, 10th President, 1950-1967
1983 — Manson Meads, Vice President for Health Affairs, 1947-2001;
1982 — D.A. Brown, Professor of English, 1941-1973
1981 — Owen F. Herring ('13, MA '14), Professor of Religion, 1946-1963
1980 — Nancy Susan Reynolds, Benefactor; James W. Mason (JD '38), Chairman, Board of Trustees
1979 — Grady S. Patterson ('24), Registrar, 1924-1972; A.C. Reid, Professor of Philosophy, 1920-1965
1978 — Melvin Q. Layton ('47), Superintendent of Grounds, 1951-1977;Clark Vincent, Professor of Medical Sociology, School of Medicine, 1964-1978
1977 — Carroll W. Weathers ('22, JD '23), Dean and Professor of Law, 1950-1972
1976 — Egbert L. Davis Jr. ('33), Chairman, Board of Trustees; Charles M. Allen ('39, MA '41), Professor of Biology, 1941-1989
1975 — H. Broadus Jones ('10), Professor of English, 1924-1959
1974 — Edgar Estes Folk ('21), Professor of English, 1936-1967
1973 — Lois Johnson, Dean of Women, 1942-1962; Jasper L. Memory('21), Professor of Education, 1929-1971
1972 — J. Allen Easley ('43), Professor of Religion, 1938-1963
1971 — Clara Carswell, Benefactor
1970 — Harold T. P. Hayes ('48), Editor, Esquire magazine
1969 — Irving Carlyle, President, Board of Trustees
1968 — Camillo Artom, Professor of Biochemistry, School of Medicine, 1939-1961